Our Product Categories
Details

It's mini in a massive way.
Measuring 1.4" x 7.7" x 7.7" (H x W x D) and weighing roughly 2.6 pounds, the Mac mini is an affordable powerhouse that packs the entire Mac experience. It contains powerful yet power-efficient 4th generation Intel Core processor, fast and low power LPDDR3 and massive HDD storage. It also includes numerous connectivity options to make it a well-rounded rig, like USB 3.0, Thunderbolt 2, HDMI, 802.11ac and Bluetooth. Just connect your own display, keyboard, and mouse, and you're ready to make big things happen.
Fourth-generation Intel Core Processors. The little Engine that Does.
With fourth-generation Intel Core processors, Mac mini keeps up with computers twice its size. When you're using processor-intensive applications, Turbo Boost 2.0 increases the clock speed for more processing power. Hyper-Threading lets each core run two threads, so macOS multitasks even more efficiently. And an integrated memory controller connects fast 1600MHz memory directly to the processor, so it gets right to work on your data. In short, Mac mini is a little box of vroom.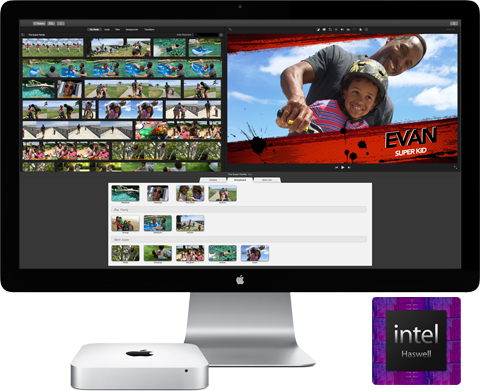 Intel HD Graphics 5000. Every Pixel Comes Alive.
Intel HD Graphics 5000 delivers up to 90 percent more pixel-pushing performance than the previous generation of integrated graphics. So the videos you watch and the games you play are smoother and more responsive. Flipping through photo albums is a breeze. And now you've got all the power you need to edit your HD video into a film worthy of a red carpet premiere.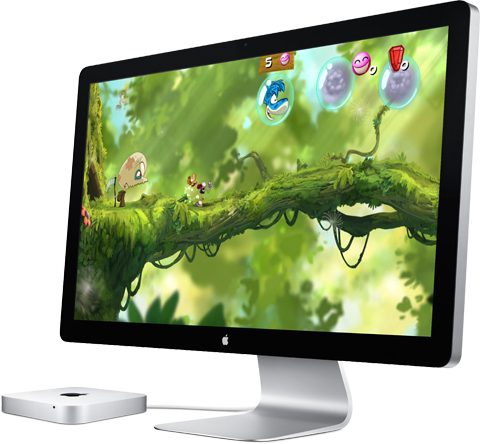 Thunderbolt 2. The Fastest, Most Versatile I/O in Any Desktop. Of Any Size.
Thunderbolt 2 technology in Mac mini is phenomenally fast. The two Thunderbolt 2 ports on Mac mini feature dual 20-Gbps channels for data transfer. That's up to four times faster than USB 3.0. But beyond speed, Thunderbolt gives you unprecedented expansion capabilities. You can daisy-chain as many as six Thunderbolt devices to a single port. And since Thunderbolt is based on DisplayPort technology, Mini DisplayPort devices like the Apple LED Cinema Display plug right in, too.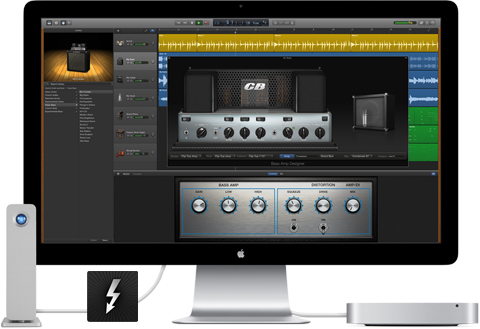 USB 3.0, Wi-Fi, and Bluetooth. You're Very Well Connected.
Plenty of ports make it ready for anything.
As powerful as Thunderbolt 2 is, it's just one of your options. If you have a third-party display, you can use the HDMI port to connect it. You can connect two displays to see more of your photos, movies, and documents at the same time. And a built-in SDXC card slot makes it easy to import those photos and videos from your digital camera.
With USB 3.0 built into Mac mini, you can connect your external hard drive and transfer large files in seconds instead of minutes. Every Mac mini comes with four USB 3.0 ports — with speeds up to 10 times faster than USB 2.0 — and you can connect all your USB-compatible devices, including your iPhone, iPad, iPod, or digital camera.
Powerful 802.11ac wireless technology is built into every Mac mini. It automatically locates your Wi-Fi network, so you can connect and start surfing the web, printing, and streaming your music wirelessly. Bluetooth wireless technology is also built in, so you can connect accessories such as a wireless keyboard and mouse. Wi-Fi and Bluetooth also make it easy to seamlessly share your work with your other devices using Handoff or AirDrop.
Bring Your Own Display, Keyboard, and Mouse.
Plug your own display, keyboard, and mouse into Mac mini. Turn it on. And just like that, everything works together. That's one of the great things about Mac mini. You can mix and match it with almost anything.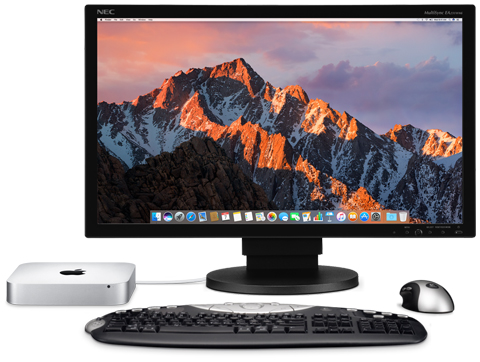 No Screen is Too Big.
It's easy to connect Mac mini to the biggest screen in the house — your HDTV — courtesy of a built-in HDMI port. All it takes is one HDMI cable to start enjoying movies and TV shows from iTunes, surfing the web, and flipping through your photo library, all in brilliant HD. And when you just want to listen to music, you can play your entire iTunes collection through your home entertainment center, or stream it to a set of speakers in any room via an AirPort Express Base Station.
macOS. It's Why There's Nothing Else like a Mac.
macOS is the operating system that powers everything you do on a Mac. macOS Sierra introduces Siri to Mac — along with new ways to enjoy your photos, shop more securely online, and work more seamlessly between devices.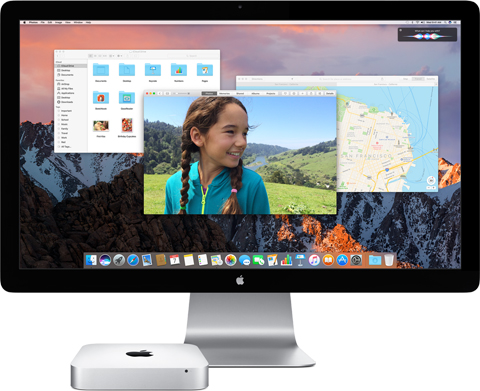 Be the first to review this product
WRITE YOUR REVIEW
Write Your Own Review
Thank Your For Shopping With Redlaser. We Appreciate Your Business!
Welcome to Red Laser!
We hope you find our website helpful and trust that you will find our prices competitive. We do our best to keep the website as current and accurate as possible. However, please note that we are constantly receiving new products and it takes time to add those products to the website. if you do not see an item that you are looking for, please contact us at 296-6400, we might just have it! We try very hard to ensure that we provide the residents of Bermuda with fair prices on good quality, name brand products. If you ever find the same product advertised in Bermuda for less, please do not hesitate to send us their website link or their advertisment and we will BEAT that advertised price. Remember, island wide delivery is always free! Unfortunately, we can not ship outside of Bermuda.
While we are happy that you visited our website, we hope that you will also visit our retail store located at 12 Bakery Lane, in Pembroke. You will find us next door to Rayclan and Pembroke Paint!