Scanners
Details
Overview: The ScanSnap iX500 provides PC and Mac users an effective way to greatly reduce paper clutter, storage space, and security risks associated with unmanaged paperwork at home or the office. For even greater accessibility and usefulness, users can now scan wirelessly to a PC or Mac as well as iOS or Android mobile devices.
Compact Color Duplex Scanner for Mac or PC
•One button searchable PDF creation
•Advanced paper feeding system
•Blazing 25ppm color scanning
•50-sheets Automatic Document Feeder (ADF)
•Built-in GI microprocessor
•USB 3.0 (or lower)
•Scan wirelessly to a PC or Mac
•Scan wirelessly to iOS or Android mobile devices
•Comes with Adobe® Acrobat® DC Standard
•Faster searchable PDF creation
•More Quick Menu Productivity
Features
Easily Transform Paper with the Touch of a Button
Achieving organization with the ScanSnap iX500 starts with the touch of a single button and ends with a host of productivity features that keep you ahead of the stack.
Scan to:

PDF
Searchable PDF
JPG
Word (editable)
Excel (editable)
Business Cards
Mobile



Wi-Fi or USB connectivity to a computer
Break free from USB and place ScanSnap just about anywhere in the room with Wi-Fi connectivity to a PC or Mac*



*May require latest online updates. Requires use of an existing wireless router. Only one computer can be registered for Wi-Fi connection



Scan Directly to Mobile Devices
Quickly bypass the computer altogether and scan
a PDF or JPEG file directly to an iOS or Android mobile device or tablet*

* See list of supported devices http://scansnap.fujitsu.com




ScanSnap Cloud
ScanSnap Cloud quickly delivers scans from your ScanSnap iX500 scanner to your favorite cloud service, without the need for a computer or mobile device. Simply press the Scan button. ScanSnap cloud automatically separates your data into documents, receipts, business cards and photos and delivers them directly to your favorite cloud service. To download, visit ScanSnapcloud.com
Featured Partners:

Evernote
Dropbox
Expensify
OneDrive
Google Docs
Google Drive
Shoeboxed
Box
Fast Double-Sided Scanning
| | |
| --- | --- |
| | Typically, higher quality means lower performance, but the iX500 maintains a double sided scanning speed of up to 25 pages per minute even at 300 dpi in Color! |
Built-in "GI" microprocessor
A dual-core CPU-mounted "GI" processor performs the intelligent image enhancement responsible for great looking images with dramatically faster results and more sophisticated connectivity:


Image processing: Automatic corrections and image output

Supports Wi-Fi:WPS (Wi-Fi Protected Setup) wireless LAN (IEE802.11b/g/n)

Supports USB 3.0
Advanced Paper Feeding System





Inheriting the superior paper feeding technology of our professional-grade scanners, iX500 achieves exceptional feeding reliability using "Separation Roller" technology to minimize jams and multi-feeds.
Advanced Paper Detection
| | |
| --- | --- |
| ScanSnap iX500 is equipped with an ultrasonic sensor that can be turned on to help operators avoid losing images. What's more, an interactive interface allows users to easily bypass intentional double-feed such as a taped-receipt on an expense report. | |
Accelerated Searchable PDF creation





Making PDF files searchable at the point of scanning is a great way to keep them instantly accessible and now you can create a searchable PDF at nearly the same speed as a standard PDF.
Productivity Software for Mac and PC


CardMinder Business Card Software

ScanSnap iX500 can quickly scan business cards, extract the content information and place it into editable fields that can be exported to Address Book, Excel, Salesforce, and other contact managers.
ScanSnap Organizer

View, Manage and edit PDF and JPEG files scanned with ScanSnap on a Windows or Mac platform. Organizer allows users to convert scanned PDF files into searchable content, embed custom keywords, attach to email or SharePoint and remain productive with paperwork long after it is scanned.

ScanSnap Receipt

ScanSnap Receipt allows users to easily scan and extract information from receipts, and export the data into CSV for easy tax filing. ScanSnap Receipt also supports multiple languages and currencies.* For PC and Mac.

See list of specifications.

***Supported languages: English, Spanish, French, German, Italian, Russian. Supported currencies: USD (United States Dollar), CAD (Canadian Dollar), GBP (Great Britain Pound), EUR (Euro), RUB (Russian ruble), AUD (Australian dollar).
ABBYY FineReader Express Edition for Mac
Quickly convert PDF documents into searchable PDF's with a simple drag and drop functionality of FineReader Express.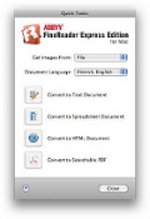 ScanSnap Sync
Quickly and easily synchronize your scanned documents between ScanSnap Organizer on your computer and the ScanSnap Connect App on your mobile device using Dropbox, Google Drive or OneDrive. ScanSnap Sync automatically synchronizes scanned documents between your computer and mobile device, giving you more flexibility to manage your scanned data.
ScanSnap Folder*
Scan 'outside-the-box' into virtually any application or cloud service from PC.



*ScanSnap Folder is only available on PC
More Ways to Scan to the cloud
Scan to:

Evernote
Dropbox
Google Docs
Salesforce
SugarSync
SharePoint (PC only)
Be the first to review this product
WRITE YOUR REVIEW
Write Your Own Review
Thank Your For Shopping With Redlaser. We Appreciate Your Business!
Welcome to Red Laser!
We hope you find our website helpful and trust that you will find our prices competitive. We do our best to keep the website as current and accurate as possible. However, please note that we are constantly receiving new products and it takes time to add those products to the website. if you do not see an item that you are looking for, please contact us at 296-6400, we might just have it! We try very hard to ensure that we provide the residents of Bermuda with fair prices on good quality, name brand products. If you ever find the same product advertised in Bermuda for less, please do not hesitate to send us their website link or their advertisment and we will BEAT that advertised price. Remember, island wide delivery is always free! Unfortunately, we can not ship outside of Bermuda.
While we are happy that you visited our website, we hope that you will also visit our retail store located at 12 Bakery Lane, in Pembroke. You will find us next door to Rayclan and Pembroke Paint!