Our Product Categories
Details
PLEASE NOTE THAT REDLASER DOES NOT SELL IPTV SERVICE. THE MAG 254 IS SOLD AS AN UNPROGRAMMED BOX .
If you are looking for a local IPTV service programer, we recommend contacting Blakbox or Mobiletech
No subscriptions, TV channels or any other video/audio content will be provided with purchasing of the unit.
MAG 254w1 is a powerful Set-Top Box with efficient processor STiH207 and increased RAM memory, and it is an optimal solution for IPTV/OTT projects. The Set-Top Box is designed to fulfill business projects of internet providers, OTT operators and content aggregators. The increased productivity of MAG 254 enables to use resource-intensive interactive applications and support 3D-video.
STiH207 650Mhz, Linux 2.6.23, Composite AV, HDMI 1.4, USB x 2, S/PDIF, LAN and WiFi Ready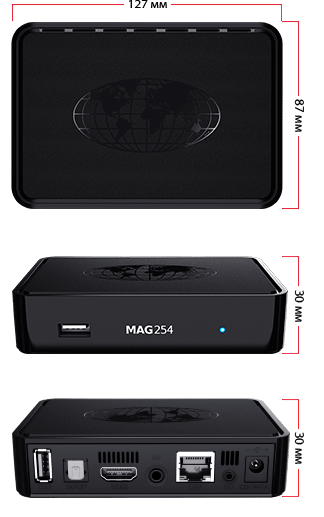 SPECIFICATIONS
Dimensions
| | |
| --- | --- |
| Width/depth/height, (mm): | 127/87/30 |
| Weight, g: | 190 |
Hardware
| | |
| --- | --- |
| Processor: | STiH207 |
| RAM: | 512 Mb |
| Flash memory: | 256 Mb |
Software
| | |
| --- | --- |
| Operating system: | Linux 2.6.23 |
| | Built-in Media Portal with WebKit-based IPTV-functionality HTTP 1.1, HTML 4.01 XHTML 1.0/1.1; DOM 1, 2, 3, CSS 1, 2, 3; XML 1.0, XSLT 1.0, XPath 1.0 ; SOAP 1.1; JavaScript ECMA-262, revision 5; Media JavaScript API; C layer SDK |
| DRM option: | Secure Media, Verimatrix (MAG255) |
| Middleware supported: | Stalker, Netup, SmartLabs, Netris, Beenius |
Interfaces
| | |
| --- | --- |
| | Audio output S/PDIF HDMI 1.4-output Composite + stereo A/V output Ethernet 100 Mb/s USB 2.0 (WiFi-adapter can be connected) |
Sources of media content
| | |
| --- | --- |
| | PC and NAS in local network Stream media protocols (RTSP, RTP, UDP, IGMP, HTTP) USB-devices |
Audio&Video
| | |
| --- | --- |
| Audio codecs: | MPEG-1 layer I/II, MPEG-2 layer II, MPEG-2 layer III (mp3), MPEG-2 AAC (optional), MPEG-4 AAC LC 2-ch/5.1ch (optional), MPEG-4 AAC+SBR 2-h/5.1ch (optional), Dolby Digital (optional), DTS (optional) |
| Audio formats: | MP3, MPA, M4A, WMA (optional), Ogg, WAV, AAC |
| Video modes: | 1080i, 1080p, 720p, 576p, 480?, PAL, NTSC |
| Video codecs: | MPEG1/2 MP@HL, H.264 HP@level 4.1, MPEG4 part 2 (ASP), WMV-9 (optional), VC1 video, XviD; 3D and HD video supporting (up to 40 Mbit / s and above) |
| Video containers: | MKV, MPEG-TS, MPEG-PS, M2TS, VOB, AVI, MOV, MP4, ASF, QT, WMV |
| Image formats: | JPEG, PNG, BMP, GIF, RAW |
| Subtitles: | DVB, SRT, text MKV |
| Playlist formats: | M3U |
Standard set
| | |
| --- | --- |
| | MAG254 Set-Top Box, user manual, HDMI cabl , Power adapter 12V 1A, remote control, 2 AAA batteries, cardboard packaging. |
Be the first to review this product
WRITE YOUR REVIEW
Write Your Own Review
Thank Your For Shopping With Redlaser. We Appreciate Your Business!
Welcome to Red Laser!
We hope you find our website helpful and trust that you will find our prices competitive. We do our best to keep the website as current and accurate as possible. However, please note that we are constantly receiving new products and it takes time to add those products to the website. if you do not see an item that you are looking for, please contact us at 296-6400, we might just have it! We try very hard to ensure that we provide the residents of Bermuda with fair prices on good quality, name brand products. If you ever find the same product advertised in Bermuda for less, please do not hesitate to send us their website link or their advertisment and we will BEAT that advertised price. Remember, island wide delivery is always free! Unfortunately, we can not ship outside of Bermuda.
While we are happy that you visited our website, we hope that you will also visit our retail store located at 12 Bakery Lane, in Pembroke. You will find us next door to Rayclan and Pembroke Paint!