Default Category
Details
eneloop Ni-MH "Low Self Discharge" batteries utilize Panasonic's advanced rechargeable battery technology allowing them to be recharged up to 2100 times**.
eneloop battery cells deliver consistent power performance, maintain 70% of their charge for up to 10 years*, come pre-charged by solar power (at the factory)*** and are ready to use out of the package. These eneloop cells also have increased storage life and extreme temperature performance down to -4° Fahrenheit.****
These battery cells are ideal for all household products including flashlights, wireless gaming devices, digital camera flash units, and wireless mouse and keyboards.
eneloop = Lower Cost of Ownership
eneloop offers a lower cost of ownership saving, as much as $1000 per cell vs. regular Alkaline batteries.
Each eneloop cell can cost less than 4 cents per recharge.

*eneloop Recharge Cost Assumptions and Calculations
0.144 Kilowatts @ 8 hours
4 eneloop AA — 2100 recharges
2100 cycles x 8 hours changing time = 16,800 hours of AC power
0.144 KW x 16,800 hours = 2,419.20 KWH
2,419.20 KWH x $0.12 = $290.30
Initial Product Cost = MQN064 (4AA + charger) @ $29.99 MSRP; Charger $14.99, total battery at $3.75/cell
TOTAL COST OF PRODUCT and RECHARGING = $290.30 + $29.99 = $320.29
TOTAL NUMBER OF RECHARGE CYCLES = (4 batteries x 2100 each) = 8400 recharges
COST PER RECHARGE = ($320.29/8400) = $0.038 (.038 cents PER RECHARGE)
NOTE: Cost of electricity is based on 2013 US average energy costs @ $0.12 per KWH (as calculated by US Energy Information Administration).
Why Are Alkaline Batteries 1.5V?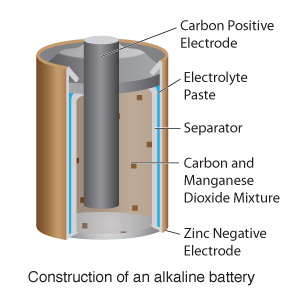 Regular disposable AA and AAA batteries are considered Primary Cells, more widely recognized as conventional "alkaline" batteries. There are two electrodes inside each cell; one is made of Zinc, known as the anode (the negative terminal) and the other is made of Manganese Dioxide, known as the cathode (the positive terminal). The electrodes are surrounded by an alkaline electrolyte, the chemical from which alkaline batteries get their name.
Battery chemistry of an alkaline battery generates 1.5V. As the chemical reaction fades, so does the power of the alkaline battery cell. This is why the voltage from alkaline batteries drops off shortly after the battery is put into use and the power continues to fade over time.
Why Are Ni-MH Batteries 1.2V?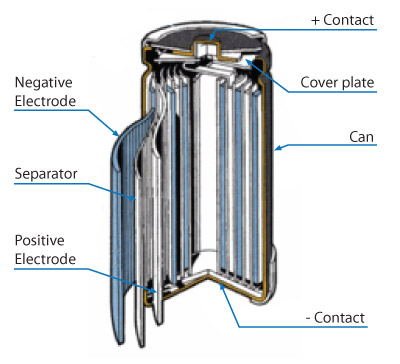 Ni-MH rechargeable batteries have two electrodes inside the cell: Nickel Hydroxide and Hydrogen absorbing alloy. Battery chemistry of a Ni-MH rechargeable battery generates 1.2V. While alkaline batteries experience rapid drops in voltage Ni-MH rechargeable batteries maintain the same voltage throughout most of the entire charge.
The chemical makeup of Ni-MH batteries allows the cell to be recharged at any time without having to be fully discharged.
eneloop batteries have continued to raise the performance bar in Ni-MH rechargeable technology. They have increased "low self-discharge" performance on Ni-MH rechargeable batteries which allows eneloop cells to store power for longer periods of time.
Since alkaline cells are non-rechargeable, they must be discarded and then replaced. eneloop batteries deliver best-in-class Ni-MH high capacity power and "rechargeability" combination up to 2100 times.** Devices including cameras flash units and wireless game controllers can easily draw more than 1000mA of current, rapidly depleting alkaline batteries power. eneloop batteries maintain a consistently high voltage level keeping your devices operating for a long period of time. When you use eneloop Ni-MH rechargeable batteries, you will realize that "1.2V" can indeed be better than "1.5V".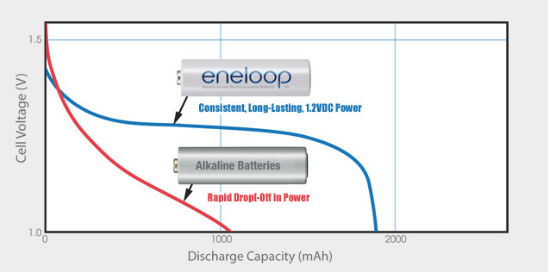 eneloop has two "new" authentic styles of packaging:
The new eneloop 2100 cycle batteries are packaged in a blue/green cardboard blister pack (shown below).

The new eneloop pro in black and silver (shown below).

eneloop 1800 and 1500 cycle batteries which were packaged in a blue/green cardboard blister design with an earth image screened on the package (are former packaging 2nd and 3rd generation products).

eneloop 1000 cycle batteries which were packaged in a blue and orange cardboard blister (1st generation product).

eneloop XX batteries are packaged in a black cardboard blister package (1st generation product).
Thank Your For Shopping With Redlaser. We Appreciate Your Business!
Welcome to Red Laser!
We hope you find our website helpful and trust that you will find our prices competitive. We do our best to keep the website as current and accurate as possible. However, please note that we are constantly receiving new products and it takes time to add those products to the website. if you do not see an item that you are looking for, please contact us at 296-6400, we might just have it! We try very hard to ensure that we provide the residents of Bermuda with fair prices on good quality, name brand products. If you ever find the same product advertised in Bermuda for less, please do not hesitate to send us their website link or their advertisment and we will BEAT that advertised price. Remember, island wide delivery is always free! Unfortunately, we can not ship outside of Bermuda.
While we are happy that you visited our website, we hope that you will also visit our retail store located at 12 Bakery Lane, in Pembroke. You will find us next door to Rayclan and Pembroke Paint!